How to get the most bang for your buck
Posted by Gina Buck on Monday, November 8, 2021 at 9:23 PM
By Gina Buck / November 8, 2021
Comment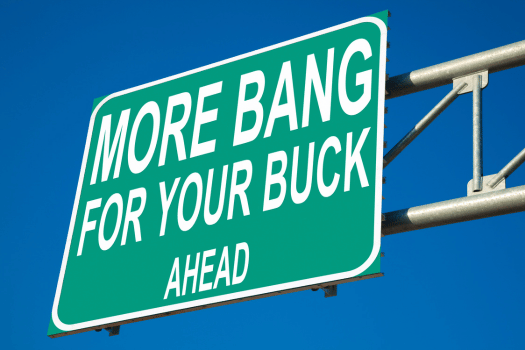 Today's blog is going to be for all of our sellers out there.
If you're like us, you want to make the most of whatever it is that you're doing. Selling your home shouldn't have to be any different.
We're going to give you a few game changing tips on how to ensure that you're not only very prepared, but also that you're "getting the most bang for your buck" when selling your home!⠀
TIP #1: Understand your local market! (Hint: This is one of the reasons you have us). Grab your realtor and start asking those questions. Ask them about the average sales price, average days on the market, the number of homes sold in your area in the last month compared to other months, etc. Knowledge is power!! Especially when selling your home.
TIP #2: Know that not all upgrades are equal. When going to improve your home, its important to know that there are some improvements will provide no additional value to your home, and others that will add significant value to your home. Some examples of value adding improvements are:
A Kitchen Remodel: Update that kitchen!! Get some new cabinet hardware. If your faucet and sink need upgrading, upgrade them. Add some new and modern light fixtures. If you have dimmer lightbulbs, spend a couple extra bucks to get some new brighter and more energy efficient bulbs. If your appliances are old and outdated, replace them with new and updates ones! This might seem like an expensive improvement, but we promise you, if done right, its a safe one. You can expect to recoup 60%-120% of your investment on a kitchen remodel, as long as you do it correctly.
Deck Addition (Wood): Cost: $13,333// Resale: $10,083// Recoup: 75.6%.
Garage Door Replacement: Cost: $3,600// Resale: $3,520// Recoup: 97.5%
Opening Up Your Floor Plan: This could potentially add up to 20% to the value of your property.
TIP #3: Consider staging your home! This is something that is simple and inexpensive, but can make a big difference for potential buyers. For tips on how to stage a home, see our previous post.
TIP #4: Install new windows!! This is one of the things that we were talking about in tip #1. This is definitely an improvement that will make a difference. Let's just put it like this... Having older, drafty, single pane windows is kind of like having $1.00 steak from Dollar Tree (yes, they actually have these), when you could be having a 35oz Tomahawk steak from Outback. Go for the gold and get the 35oz steak of windows. Energy efficient, double panned, stylish, NEW. Energy Star claims that adding Energy Star-rated windows can save you up to $500 a year in heating and cooling costs by making your home more energy efficient. You can also expect to you can expect to recoup 60%-90% of your costs when you make this improvement.
TIP #5: Upgrade your central heating!! Installing efficient central heating reduces energy bills and is appealing to potential buyers. This improvement may have a hefty price tag, but it has the potential to score you an extra couple of thousand towards the value of your home.
TIP #6: ALWAYS BE READY TO SHOW. Its always good to be available whenever buyers want to come see your home. Having a home that is easy to show makes things easier and more enticing for everyone involved! It also helps to have it in tip-top shape when the potential buyers come to view.⠀
TIP #7: Create a digital home history. Buyers love a home that is move in ready. Creating an online digital footprint that details a home's maintenance records, floor plans, warranty documents, etc, can enable you to showcase your efforts while allowing potential buyers to fully appreciate the home's maintenance history. (We can direct you to websites that will help with this.)⠀
TIP #8: Set the price right! The goal here is to list your house at a price that works well for you, but also for buyers. How are you supposed to know what this magical number is, you might say?? Again, we will say, this is what you have us for!! As professionals we have access to information and knowledge about the market that puts us in the perfect position to help you accurately price your home.
Overpricing your home can do a number of things. You risk having to drop the price, taking longer to sell, or making it harder for buyers to discover your listing. Over time, buyers can become skeptical of your homes continually declining price. It may cause them to think that there is something wrong with the home or that you, as the seller, have unrealistic expectations. This can limit your negotiating power because buyers might perceive the trend as a sign your home should be discounted. Also, considering that most people conduct searches for a certain price range, if your home is overpriced, this can make it harder to find for those who would be looking and interested.
TIP #9: Negotiate the best offer, not just the highest offer. This might sound crazy, but when it comes to selling your home theres more to it than just the dollar amount on the offer. Check for things like contingencies. Your agent can explain these to you and help you have a better understanding of what each offer entails. Take your agents advice! They are the professional.
TIP #10: Last, but certainly not least, we have what could be the most beneficial tip of all. CLEAN! Make sure your home is organized, cleaned out, spick and span, squeaky clean, all of the above. Invite Mr. Clean himself to your house and let him take over!!
No potential buyer wants to see a cluttered, messy space. It not only makes it harder for them to envision themselves there due to the distraction of all of your things, but can really take away from the highlights of your home. So trust us when we say, clean... clean... clean!!!
We hope these tips were helpful and gave you exactly what you needed to get yourself on the track of being ready to sell your home.
For more information on how to make the "most bang for your buck" when selling your home, give us a call or stop by our office!!! We would be happy to help you and give you more information on the process, and how we can help you sell your home faster, easier, and with less stress!