Independence Day
Posted by Gina Buck on Saturday, July 1, 2023 at 10:00 AM
By Gina Buck / July 1, 2023
Comment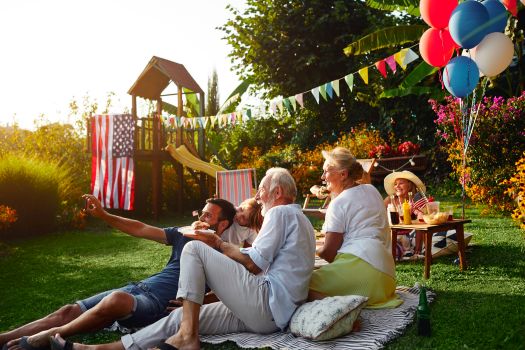 As the Fourth of July approaches, Americans everywhere are gearing up to celebrate the nation's independence. While fireworks and barbecues are synonymous with this patriotic holiday, it's also a perfect time to reflect on what it means to own a piece of the American dream. What better way to commemorate this special occasion than by exploring the intersection of real estate and Independence Day? In this blog post, we will delve into how you can find your dream home and celebrate the Fourth of July with a bang!
Declare Your Independence from Rent: The Fourth of July serves as a reminder of the freedom we enjoy as homeowners. If you're currently renting, now might be the perfect time to take the leap into homeownership. With interest rates, home prices, buyer activity, and various financing options available, it's an opportune moment to explore the possibilities of owning your own piece of real estate. Imagine the pride and joy of hosting your first Independence Day gathering in a place you can truly call your own.

Fireworks from Your Backyard: One of the quintessential traditions of Fourth of July celebrations is watching spectacular fireworks displays light up the night sky. Imagine the convenience of having a home with a backyard that offers a front-row seat to the local fireworks show. Purchasing a property in a neighborhood known for its grand fireworks display can provide you and your loved ones with unforgettable memories every year. Seek out communities with fireworks events nearby or even find a property with an unobstructed view of a public fireworks display for the ultimate Independence Day experience.

Embrace All-American Outdoor Living: The Fourth of July is synonymous with outdoor barbecues, pool parties, and friendly gatherings. When searching for your dream home, consider properties with outdoor amenities that embody the spirit of American outdoor living. Whether it's a spacious patio, a deck with a grill, a swimming pool, or a lush backyard, these features can enhance your Fourth of July celebrations and create an inviting atmosphere for year-round outdoor enjoyment.

Community Parades and Festivities: Many communities host parades, fairs, and festivals to celebrate Independence Day. When searching for a new home, consider the local community's Fourth of July festivities as a factor in your decision. Living in a neighborhood that embraces this holiday with gusto can provide you and your family with a close-knit community experience. Participating in parades, attending picnics, or enjoying live music concerts are all wonderful ways to celebrate this important holiday and create lasting memories.

Investing in America's Future: The Fourth of July is a time to reflect on the values that define our nation. Investing in real estate not only allows you to build a foundation for your own future but also contributes to the stability and growth of your community and the nation as a whole. Owning a home represents a tangible investment in America's future, ensuring that future generations will continue to enjoy the privileges of homeownership and the opportunities it brings.
This Fourth of July, as you gather with loved ones, enjoy the fireworks, and savor the flavors of summertime barbecues, take a moment to reflect on the significance of homeownership and the role it plays in celebrating our nation's independence. Whether you're ready to declare your independence from renting, seeking a home with a front-row seat to the fireworks, or embracing the joy of outdoor living, this patriotic holiday is the perfect time to embark on your real estate journey. So, raise the flag and celebrate in style as you find your dream home and embrace the true meaning of independence! Happy Fourth of July!
Let's talk about how you can get your independence!